The scheduling feature of YouTube is convenient for creators who produce multiple videos but would like to maintain sufficient pace between each video upload.
You do not want to publish all your content in one sitting. The YouTube algorithm values consistency. Hence, causing a gap due to irregular uploads will not bode well for your channel.
By the time you get to the end of this article, you will have all the information you need to schedule or edit your desktop or phone content. You will also gain insight into some best practices to follow when you schedule YouTube videos.
Why Is There a Need to Schedule YouTube Videos?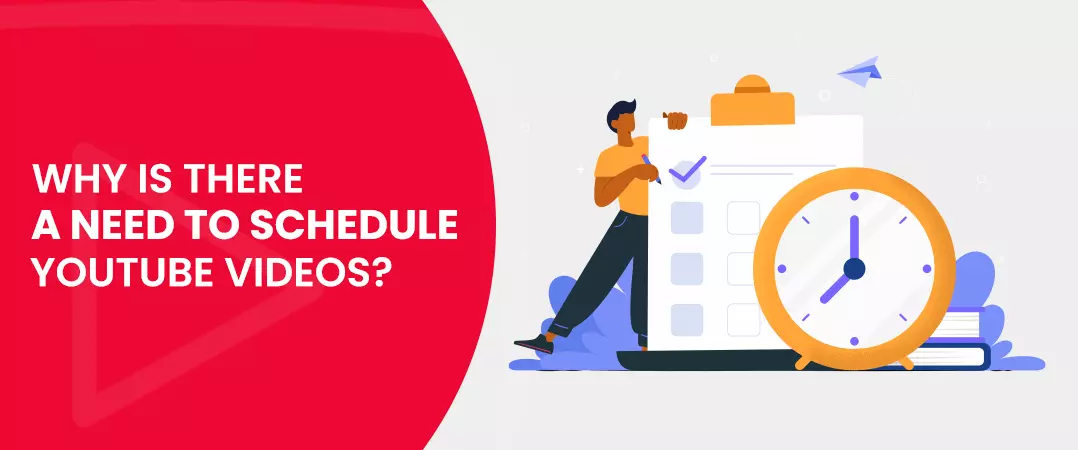 By scheduling your videos, instead of publishing them immediately, you can save yourself a lot of unnecessary hassle.
• Reach Key Audience
Scheduling comes in handy, especially when you get viewers from across the globe. For example: if you are a YouTuber in a country like India and you get most video views from users in the United States - you can schedule videos to go live when your target viewers are active, even if you are not.
• Promotional Assistance
Brands that approach you for product promotion or review occasionally want you to upload a promotional video at their convenience. You can create and schedule your content to go live at the requested time and date in advance without being physically present to upload it manually.
• Organize Multiple YouTube Video Uploads
When you have many high-quality videos - you can't wait to share them with your audience. But people, more often than not, do appreciate channels that put out large quantities of content all at once.
Suppose you want to gain equal attention for each of your posts; you should promptly configure your videos to go on your channel. Scheduling ensures that enough breathing space is maintained between each successive upload.
• Avoid Missing Out
At times, unforeseen circumstances render you incapable of uploading videos as per your content calendar commitments - unbeknownst to your audience.
To avoid gaining a poor reputation among your viewers, schedule YouTube videos to go online as per your upload schedule - this ensures that you are always on track irrespective of the situation.
Also read: How to increase YouTube engagement
How to Schedule YouTube Videos from Desktop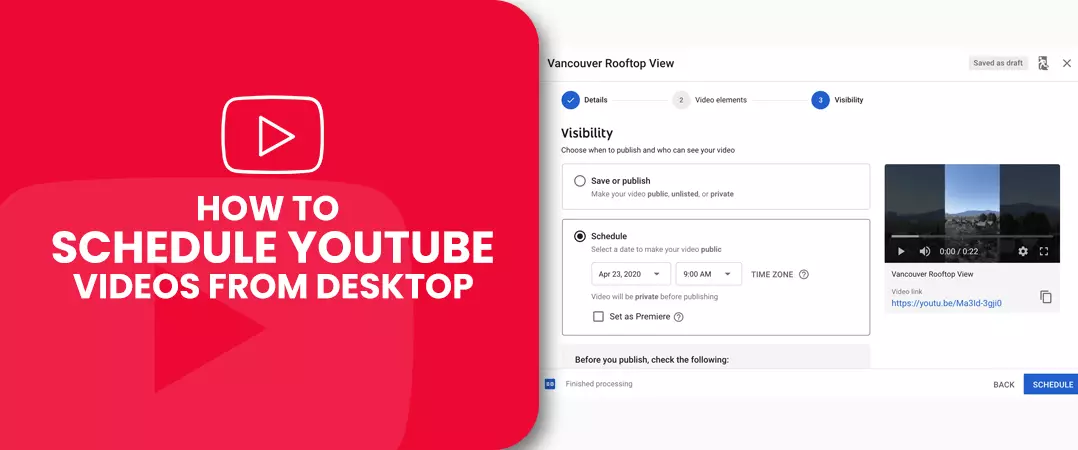 Step 1: Sign in To Your YouTube Account
Go to youtube.com and sign in with your credentials. Next, click on the video icon with the (+) on the top left corner and select the 'upload video' button from the drop-down menu.
Step 2: Upload Your Video Content
As soon as you click the button, YT will take you to an "Upload videos" page on YouTube studio. To upload the video of your choice, click on the 'Select Files' button at the center of your screen.
Step 3: Provide Details of Your Video
During YouTube video upload, you must enter details like your video title, description, tags, thumbnails, etc.
Step 4: Decide Privacy of Your Video
After you provide all the necessary details, you will be redirected to the YT visibility tab. Now you have a choice to make; you can either publish your video immediately or schedule it for some time in the future.
But before doing any of that, you first have to decide on some visibility options.
Public: When you select this option, every user on YT is eligible to see your video.
Unlisted: choose this option if you want to have exclusive access to your content. However, you also have the choice of sharing the link to your video.
Private: the visibility of a video is restricted to you; no one else can view it.
Step 5: Schedule Your Content
After deciding on your choice of visibility, press the 'Schedule' option and set the day and time you want your video to go live.
Before the specified moment comes, you can edit or reschedule your video upload.
Also read: Guide to YouTube Live
How to Schedule a YouTube Video on the Phone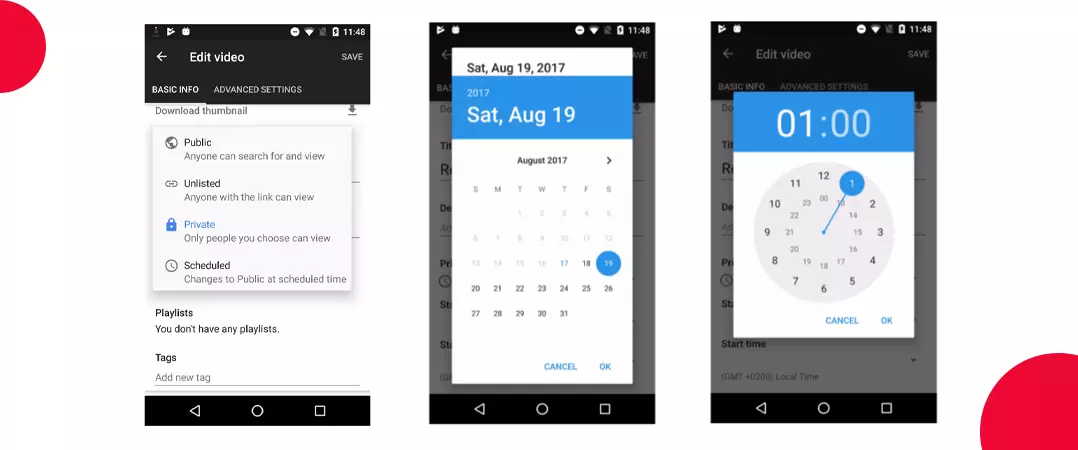 There exists a section of YouTubers who prefer uploading videos directly from their mobile devices. If you belong to that category, then this is for you.
First, you are required to download two apps - the YT app and the YouTube studio app. Android users can download the same from the play store, and iPhone users can find it on the Apple store.
Step 1: Publish Your Video on the YouTube App
Sign in to the YouTube app and press the camera icon. Select the video of your choice and tap on 'Next.
Provide the title, description, and location for your video. You must keep the visibility of your video 'Private.'
Now press 'Upload.'
Step 2: Go to the YouTube Studio App
When you open the YT studio app, you will witness the private video you uploaded on YouTube's official app.
Step 3: Edit Your Video
Once you tap on your latest upload content - you will arrive on a screen where you can edit your video by selecting the Edit button. You can see it as a pencil icon on the top right corner of the screen.
Step 4: Change the Visibility of Your Video
Now, choose the privacy option as 'Scheduled.' And specify the date and time you want your video to go live.
Step 5: Schedule YouTube Video
For the last step press, the save button. Your video has now been successfully scheduled.
How to Edit YouTube Video after Scheduling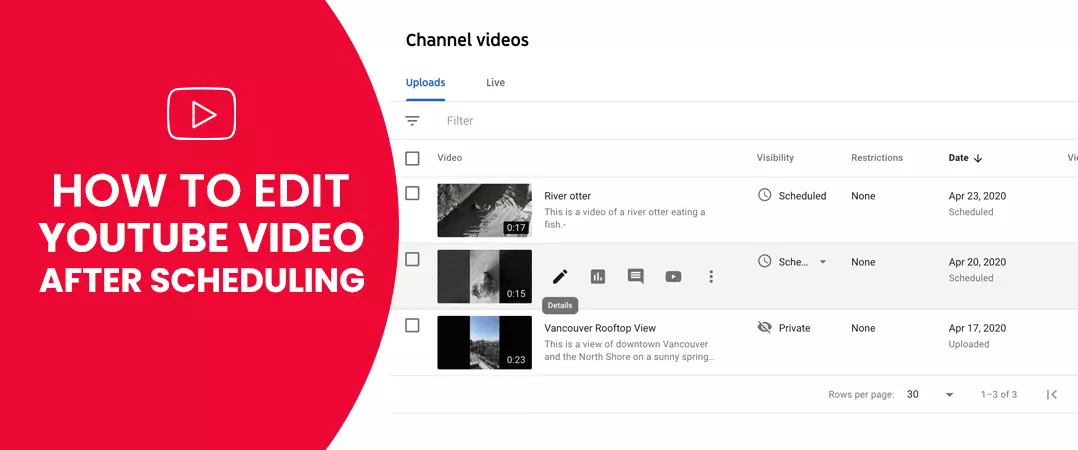 As mentioned earlier, you can edit your scheduled videos before the specified date or time arrives.
Step 1: Go to the Uploaded Video
When you find your video, hover your cursor over it to reveal a floating window. Click on 'Edit' from the options available - this is represented as a pencil.
Step 2: Change Video Details and Scheduling
Now, you can make changes to your video's title, description, thumbnail, etc., by pressing the Basic or More options tab.
You can also modify the time and date of your YouTube video upload.
Step 3: Perform Video Editing
By pressing Editor, you can modify the scheduled video - this option is available in the column present on the left-hand side of your screen - under analytics.
Schedule YouTube Videos: Best Practices
1. Make Your Video Understandable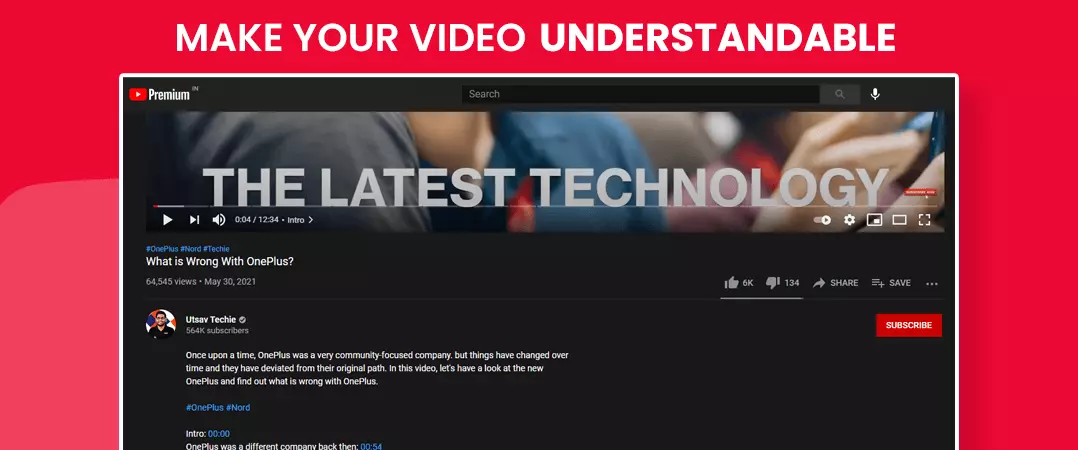 Your audience has to know what your content is before they click through and watch your videos. The title of your video is the first thing people see when your video appears in YT SERPs; hence make sure to create one that hints at your video's content.
Once they enter your video, the audience looks at your description to gain additional information; your description should highlight essential details that your watchers need. Be sure to include relevant keywords.
Tags form a significant part of your metadata; we recommend including at least 5 to 8 for each video. Your primary keyword should be one of your tags. The rest can be LSI keywords and topics that you cover in your video.
Your YouTube SEO will receive a massive boost when you follow the above recommendations. Your videos will appear more frequently in searches and also get generated views and shares for your viewers.
2. Analyse Your Competitors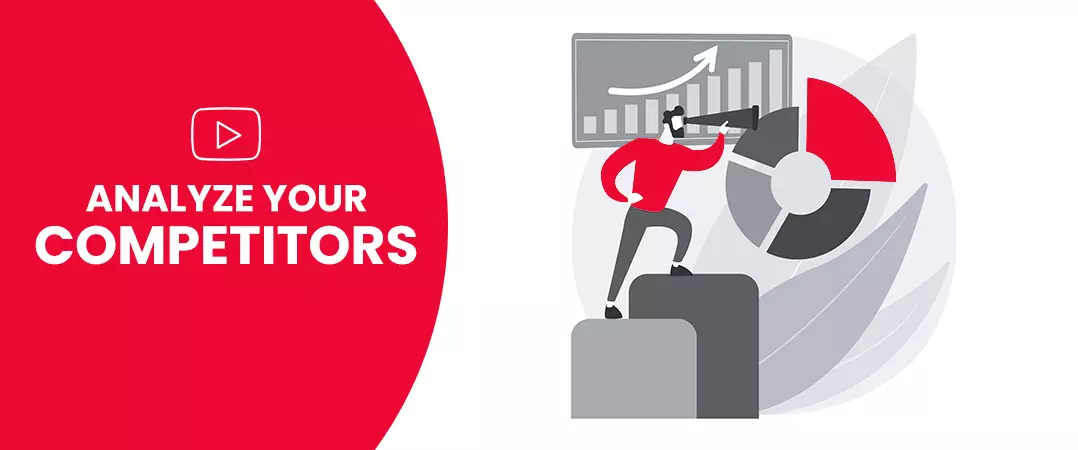 Scrutinizing competitor's behaviour, like their posting schedule and the type of videos they produce, can help your channel in the long run.
You don't have to copy your rivals completely - uncover best practices and try to refine them. If they post twice a month, you could one-up them and upload fresh content three or even four times a month.
When you target an audience of a similar demographic background, analysing your competitor's post can reveal the best time to schedule your videos.
3. Understand Your Target Audience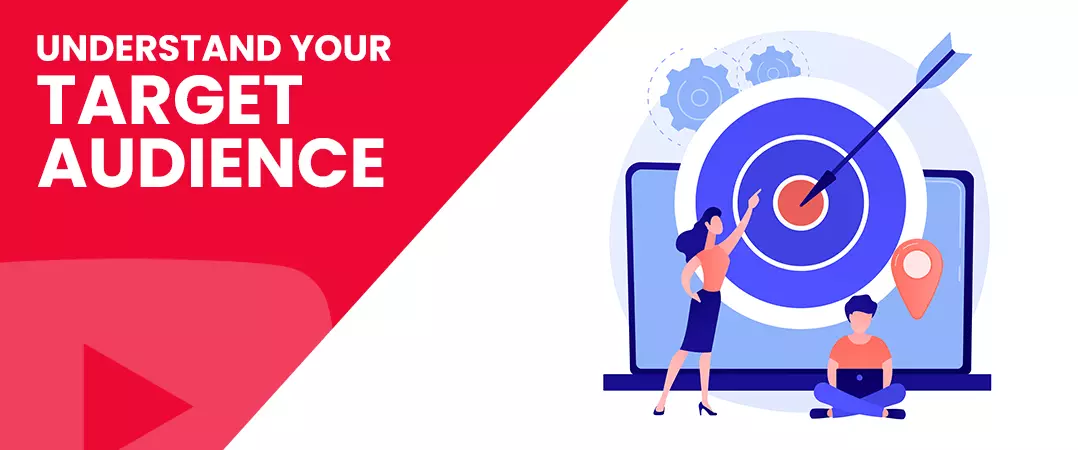 After a significant amount of time has passed and you have gathered high-quality content on your channel. Look at YouTube Analytics to gain some valuable insights into your audience - you can look at the age and gender of people who watched your videos. You can also see the date and time when your content received the most views. Utilize the data you receive to schedule your YouTube video uploads.
YouTubers avail services of legit vendors and buy YouTube subscribers– this is a great strategy to bring targeted viewers to your channel who have shown interest in the content you produce.
4. Create and Monitor Your Content Calendar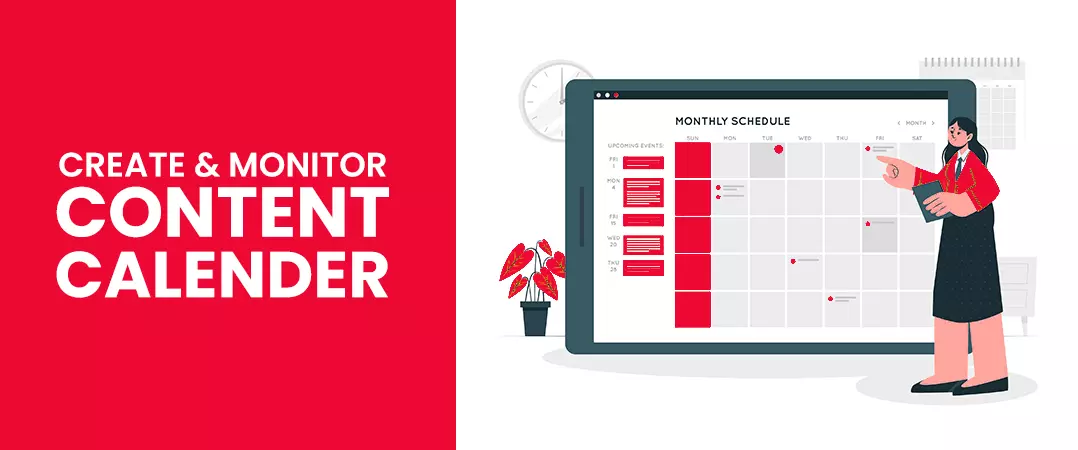 Designing a content calendar is not a one-time process - you need to constantly refine it and fill gaps that you uncover in your schedule.
Having a content calendar is proof that you have a good idea about your optimal video publish date. But if your calendar goes through several rounds of editing, make sure to avoid scheduling multiple posts on a single day.
Pro tip: Make sure to align your YT video upload with the content schedules of your other platforms - doing so will help you promote your content across different social media handles.
5. Schedule YouTube Videos Regularly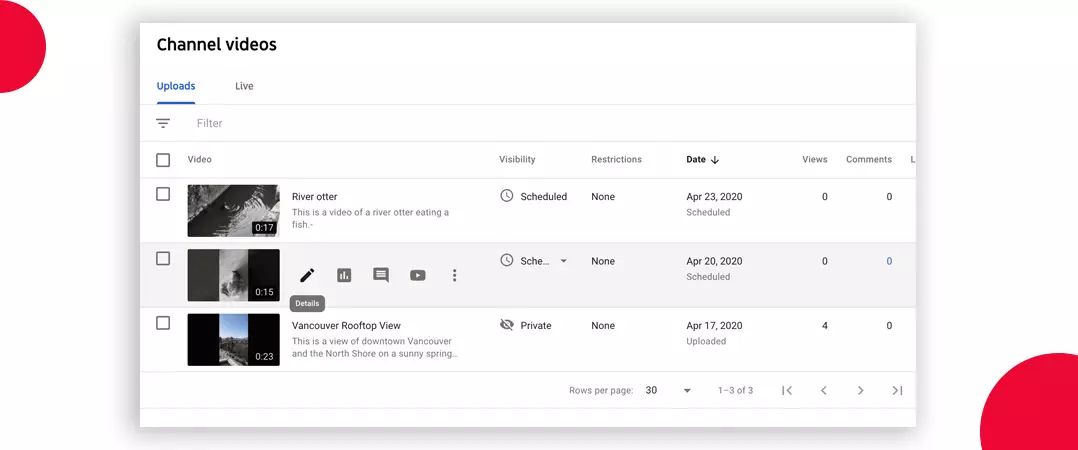 Having a perfect content calendar is good - the real challenge is being true to your schedule and coming up with fresh content at required intervals. Users do not want to interact with the channel that leaves a significant gap between successive video uploads.
To Sum Up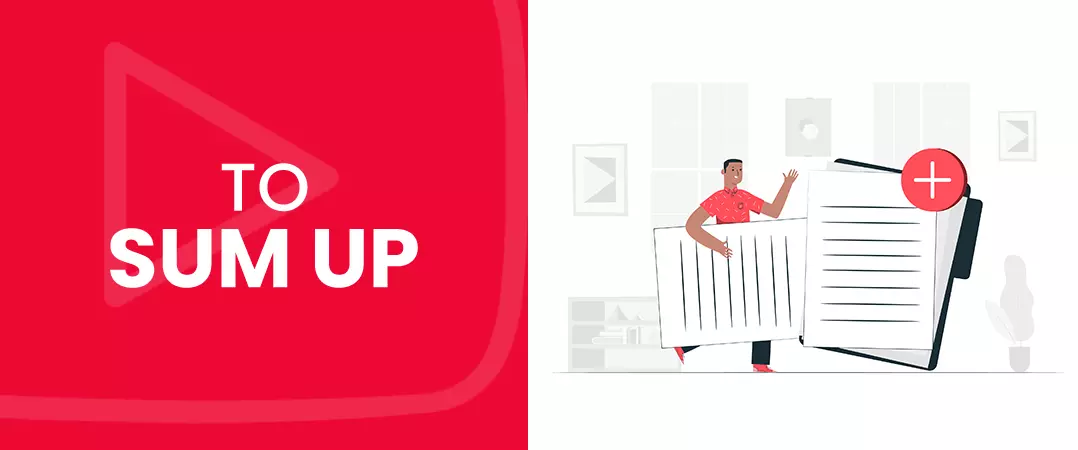 Utilize the scheduling features if specific content has to be present on your channel on a particular date or time to avoid last-minute complications. We recommend scheduling a video at least a day in advance.
We hope you found our content on how to schedule YouTube videos helpful, do check out more content from our website.
What is your preferred schedule frequency or interval?
Feel free to share!