When it comes to global search engine rankings, YouTube holds a comfortable second position in the pecking order - the stats have to be accurate, considering that more than 2 billion users log in to the platform each month. 
The platform is getting increasingly hostile for new creators. Every minute more than 500 hours of content gets uploaded on YouTube. As a YouTuber, your video can easily be lost in the pile of relevant content already present.
To get the upper hand on their rivals, YouTubers want more exposure for their content - thus, they opt to buy YouTube subscribers as an alternative for faster growth. 
But besides purchasing engagement, there are also other tactics that you can use to grow your channel organically. One of them is optimizing your video titles.  
However, this approach also comes with its set of challenges. YouTube will pit your content against millions of others that target the same audience and search terms. Getting users to click on your video will be no easy feat. 
You need help, and we are here to help you. We have compiled a list of valuable tips and video title examples that you can use when designing your YT headlines. So, strap yourself, and let's go for an intellectual ride.
What is a YouTube Video Title
Your title is an excerpt that summarizes the contents of your video in a few words. 
When we look at it from an SEO angle, your title is a vital factor that helps search engines understand and rank your content for your desired search terms.
Not just browsers, your headline is also one of the few things network users will see when they come across your content. So, if you want your target audience to click and play, you have to design the best title for a YouTube video.
What Is a Good Title for a YouTube Channel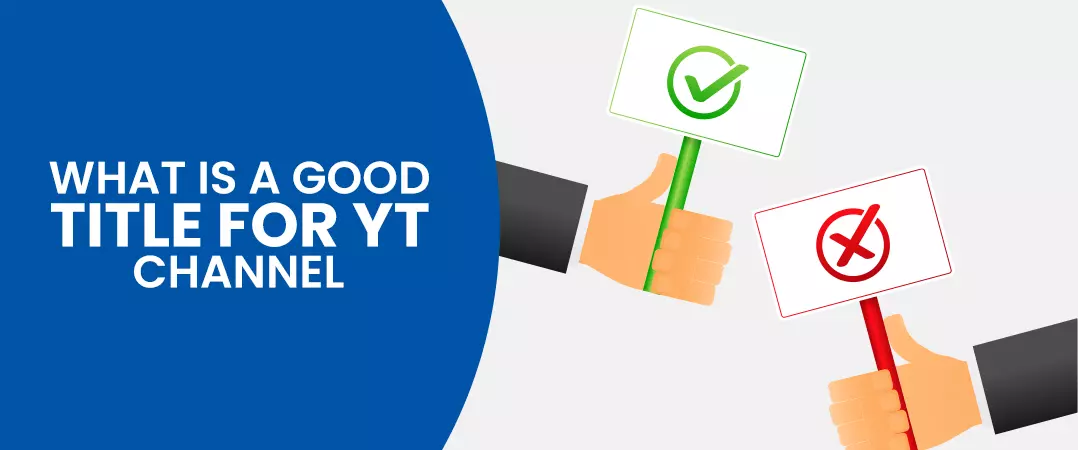 We have to get one thing straight. Producing quality videos should always be your number one priority. You could have the best title in the world, but it won't be of much help if your content itself fails to impress your audience.
On the flip side, when you create top-notch video content - the right title can help you get a higher click-through rate, more views, and lengthier watch-time. 
The path to creating a good title for your videos starts by first gaining clarity on the type of content you produce on your channel.
Do you create?
Videos to educate your visitors.
Videos for entertaining your viewers.
Videos to motivate your watchers
Or videos that provide information about your product or services to increase sales and revenue eventually.
You can later use the tips we have provided in this article to design the best title for the YouTube video.
YouTube Video Title Best Practices
1. Use Keywords in Your Title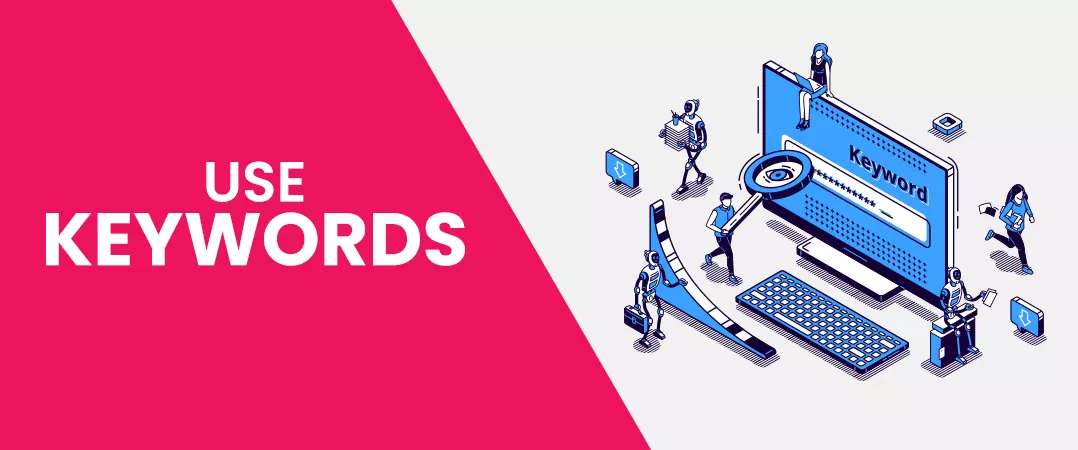 YouTubers who have been in the game for a long time are no strangers to keywords and the value they hold for their videos. YT is a search engine made up of billions of lines of code - It has no free will of its own. So, what do you think YT does to understand your content and recommend it to suitable viewers? – the search engine depends on keywords.
YouTube provides limited ways to optimize your content for search, and your video title is one of them. 
Now, let us see how you can make the most of your title.
Don't Go Overboard
You don't have to make your title look too fancy. Bombarding your headline with unnecessary key phrases does not bode well with the YT algorithm. You may even lose out on some valuable content promotion opportunities. 
To be on the safer side, we urge you to use your primary keyword just once in your title.
YouTube Favour Exact Matches
For your video to appear, as a result, the keyword in your title should match with your visitors' search terms. So, always use the keyword in all its glory without deviating from the initial structure.
Place Your Keyword at the Beginning
The YT algorithm puts more emphasis on keywords that appear at the start of your title. Therefore, we advise you always to try and include your primary search term initially or as close to it as possible.
For a YouTube video title example, let's say our target keyword is "Facebook ads." Now, with a title like "Facebook Ads for starters," you not only assist YT but also help users identify the right video for their search query.
Also read: How to Drive Traffic to a Website from YouTube
2. Do NOT Clickbait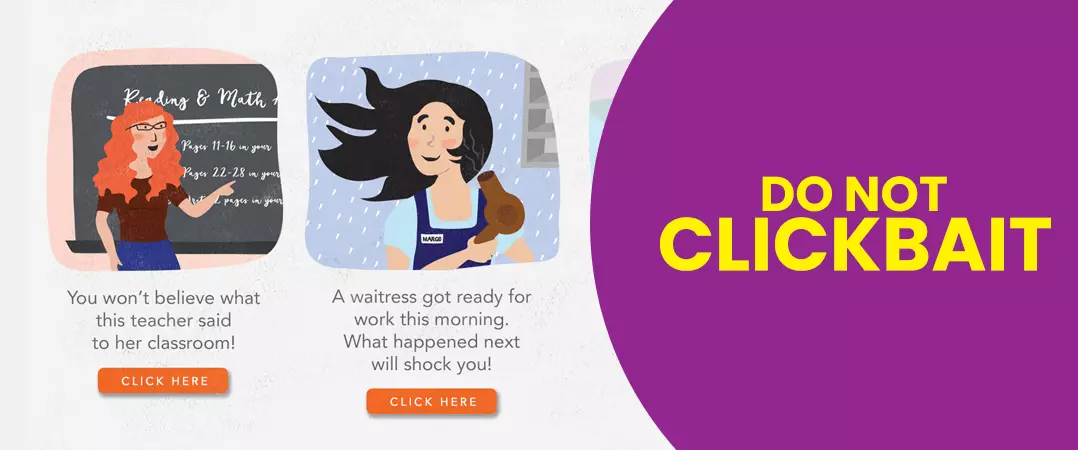 There is no denying that your title is at the forefront when you want more views for your video (RS on Page Blog 20 Link).
The race to create the best title for a YouTube video has prompted many creators to indulge in clickbait.
What is clickbait exactly? – To put it into simple words, a clickbait title is something you use to get users to click on your video. Only on the other side does it become clear that what the audience sees is not what they initially expected to find - this can often be underwhelming and can result in viewers losing trust in the creator and channel.
For our example of clickbait, let's take a video titled "How to earn $500000 in one minute". Now, do you honestly believe it is possible to earn so much money in such a short time? - I don't, and I am sure you don't either.
Unfortunately, there are users out there that will watch the video. But when reality hits and it becomes evident that the click was a mistake. The visitor will drop from the video, reducing the overall watch time that you get on your channel. 
If the user's bouncing-off trend continues for long, the algorithms will punish your channel by cutting the reach of your videos - to put it bluntly; new users won't be seeing your content any time soon.
Put yourself in your viewer's shoes. How would you feel when your expectations are crushed under a false video title promise? I, for one, will never put my faith in the channel again.
All is not lost; you can still redo your mistakes. If your videos have clickbait titles, we suggest you change them immediately. YT has set no limits to how many times you can change your headline.
3. Use Brackets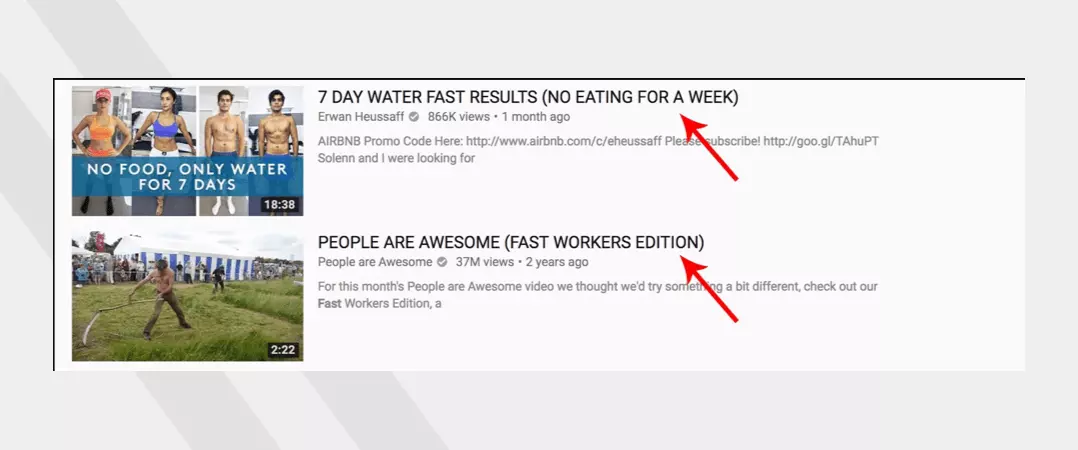 Brackets are like small bombs that make a huge impact when placed in the right spot. Why do I need to use brackets? - well, they are like a sneak peek or teaser for your content. Besides, the algorithm loves them - what more reason could you possibly need? 
Before we move ahead, we need to make peace with the fact that users don't usually appreciate a bland, uptight-looking title - instead, they welcome uniqueness and out of box thinking. We should not be surprised when weird-looking titles enjoy a much higher click-through rate .
An independent study has revealed that videos with brackets in their headline got 40% more clicks.
Super Chat and Super Sticker are also inaccessible if the 'Live Chat' is turned off.
4. Relate Your Title with Your Thumbnail
When videos show in results for our search query, our eyes are inadvertently drawn towards the title and the thumbnail . These two prospects make it easier to decide whether we should click or skip the underlying video.
If your title does not cut the bill, your audience will not bat an eye. Hence, you have to be confident that your title and description work in harmony to hint at your video contents.
5. Do Not Forget to Include Numbers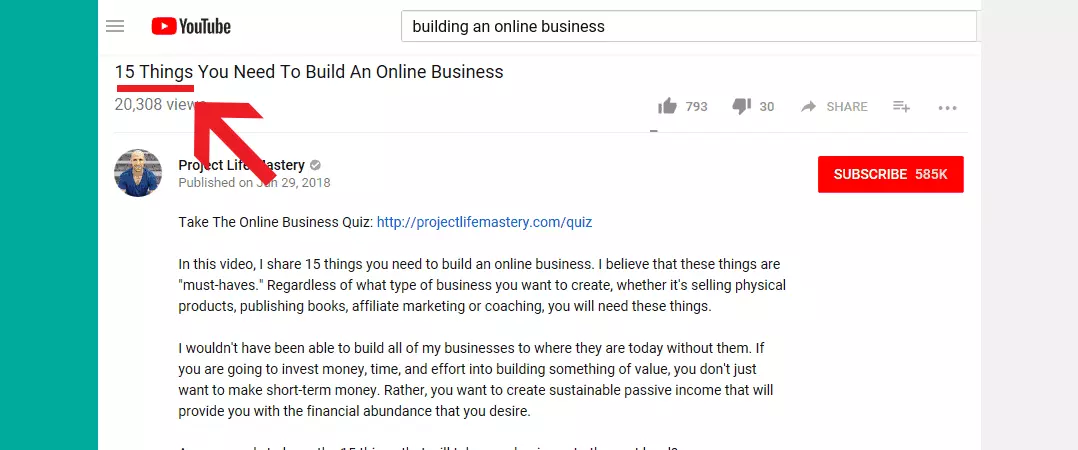 Having a keyword-optimized YouTube titles and description helps YT index and categorize your content for the correct search term. But you are not the only YouTuber on the platform, and neither is your video. Others have content with similar or precisely matching titles.
In search, videos for a user query line up one after another. The ones that appear in the top 3 results command the highest amount of traffic. So, what can you do to secure top spots for your content? - clickbait is out of the question. Instead, you could manipulate your audience to click on your video by using numbers in your title.
Fun fact, headlines with numerical enjoy a higher click-through rate (CTR).
Let's understand this with an example, say for a user's search term "best graphic designing software," we have two videos titled, "Top 5 best free graphic designing software for Windows" and "Best video editing software for Windows," respectively. The former that has a number shows up above the latter, thus attracting more user attention.
It would also help us note that although the second video has an exact search term match, it still does not occupy the highest position. What could be the reason for this? - in simple words, the one with the 'number' got more clicks and watch-time and therefore ended up getting better exposure by YouTube.
6. Mind the Length of Your Title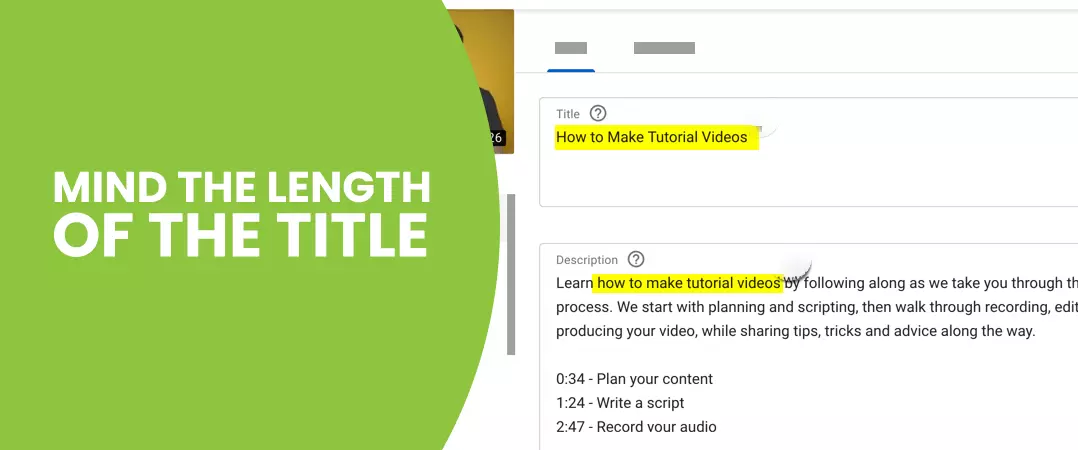 While it is true that the more information you provide in your title, the more clicks, views, likes, and comments you will generate.
You have the option to buy YouTube comments from authentic providers, but we'll talk about it another time.
When you keep long headlines, they will eventually be cut when your video is viewed as a search result - Google truncates anything above 60 characters.
So, what can you do? Create short titles? - No, we'll take a hard pass on that as well - mainly because headlines that are too short do not provide the necessary details needed to get users to click on your videos. 
Striking the right balance should do the trick. YouTube, as of now, has set a limit of 100 for video titles. But we recommend restricting your headline to 60 characters so that it shows up in all its glory without the ellipsis (dots). You can bump it to 70 if you really can't help it - but not more than that.
7. Listicle Style Title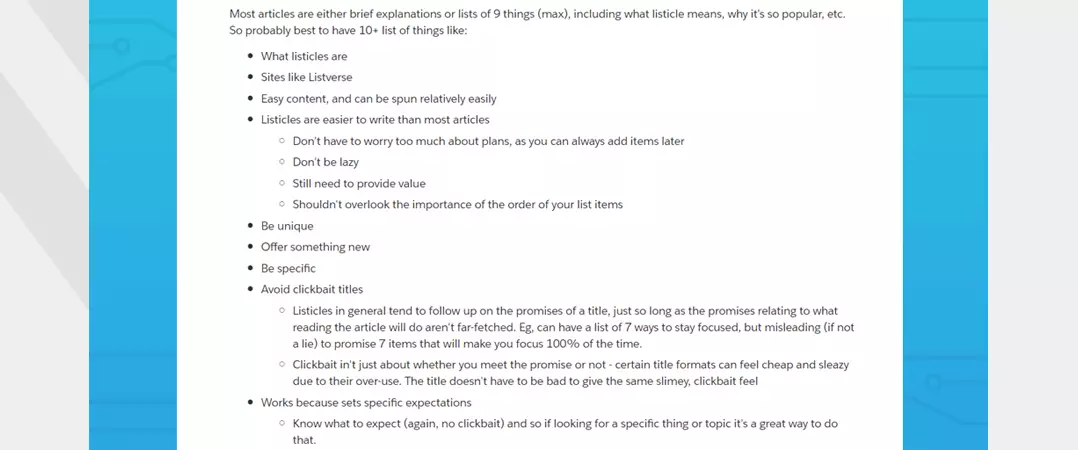 Another great YouTube video title idea is listicle - a style initially birthed by BuzzFeed, gaining traction in recent times.
You did your keyword research for your topic using "Google keyword planner" and created a perfect video for the same.
Now, your headline should look something like this "How to learn [target keyword] and become [expected outcome]."
When you look at it closely, our title has addressed the searcher's need and attached an additional benefit that users will receive if they decide to play our video. This move is sure to bring us more clicks, views, likes, and comments.
Pro tip: you can also buy YouTube likes and establish yourself as a significant player within your niche.
8. Use a Power Word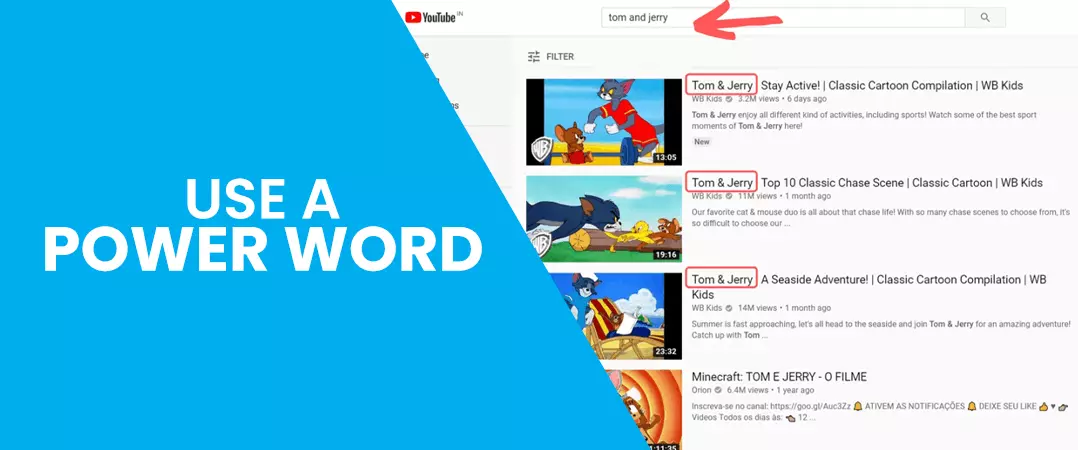 Next up, we have power words - characters that can get you to more clicks and views when utilized effectively. 
Power words have more weight; their role is to generate a psychological reaction from the viewers and compel them to take their desired action.
Let us look at some title examples that have powerful words:
5 excellent ways to launch your online business.
8 amazing tips for training your dog.
When you look at it closely, the title is nothing special - it could very well have most of the words used by other videos appearing as results. But here, the use of powerful words makes your content stand out from the rest and helps convince users to click on your video.
If you have at least one power word in all your headlines, it can up your chances of getting a higher click-through rate (CTR) on your videos.
To Sum Up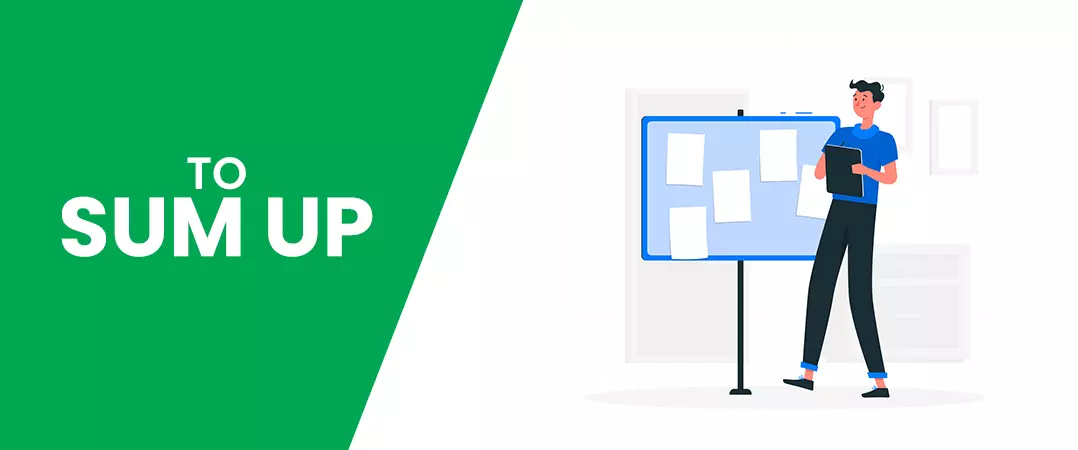 Remember, your video title (and thumbnail) is the first thing your audience will see. So, pay special attention to your headline and press the publish button only when you are satisfied with the result.
Designing a good title and descriptions for your videos will help your channel climb the ranks quickly and help your content rank for the right keywords.
We hope that the time you spend reading our article on "How to write the best title for YouTube video in 2021" has left you with valuable insights. You can check out more content on our website.
Do you have anything that you would like to add to our list?
Feel free to share